Last updated on
Children are now tech-savvy, and they cannot stay without a phone. It's also easier to call them and ask how they are doing instead of leaving someone to check on them. While the phone has made life more comfortable, do you know what else they are doing with it?
Of course, they will not show it to you since they don't want you to see. On the other hand, you need to keep tabs on them to know their every move. That way, you can restrain bad phone-use practices or prevent bullying cases, especially online.
In this guide, we will show you how you can spy on cell phone without installing software on target phone. After that, you can always check on the phone's activity remotely regardless of the distance.
Part 1: Spying on Your Child's Phone with Cocospy
Cocospy is a global monitoring solution that millions of parents have used in more than 190 countries. It has helped them spy on their children secretly and reveal more information from their phones.
With Cocospy, you can view the saved contacts, messages, browsing history, GPS location, and social media updates, among other things. All these and more are shown to you remotely via a web-based dashboard that is fully compatible with all browsers.
Cocospy works in stealth (hidden) mode in both Android and iOS. You need to set up an account first before you can monitor either of the platforms. In both cases, no rooting or jailbreaking is required before using this application.
Using Cocospy, you can monitor any iOS device with OS version 7.0 and above without installing it. All you need are the iCloud details of the phone you want to spy. Also, make sure the two-step verification is disabled.
In Android, however, you have to access your child's phone once for a one-time installation. After that, you will not have to touch it again. Your job is to wait for the results remotely via the panel.
With that, here is how you can spy on your child's phone without them knowing.
1.1 How to Spy on Your Child's iPhone Using Cocospy without Installing Software
Go to your browser and visit Cocospy website. After reading about it on the home page, register an account using an email address and password.

Next, select the Apple icon to continue. You will see all the available Cocospy plans.

Please select the one that suits your spying needs and purchase it.

You will then get a confirmation email with the receipt, log in details, and set up instructions.

After the email, login to your account using the registration details.
Next, verify the iCloud details of the iPhone or iPad you want to spy. After that, select the device you want to monitor to continue.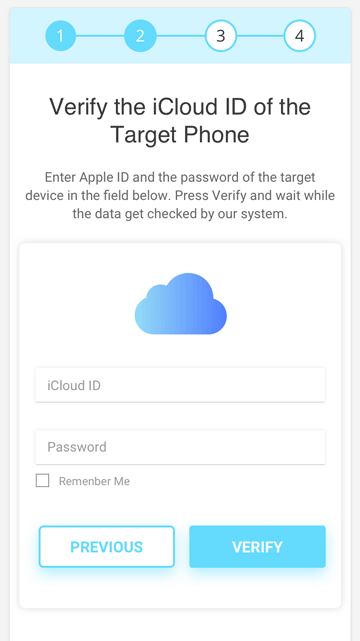 Once Cocospy and the iCloud synchronize, you will see the dashboard with features on the left.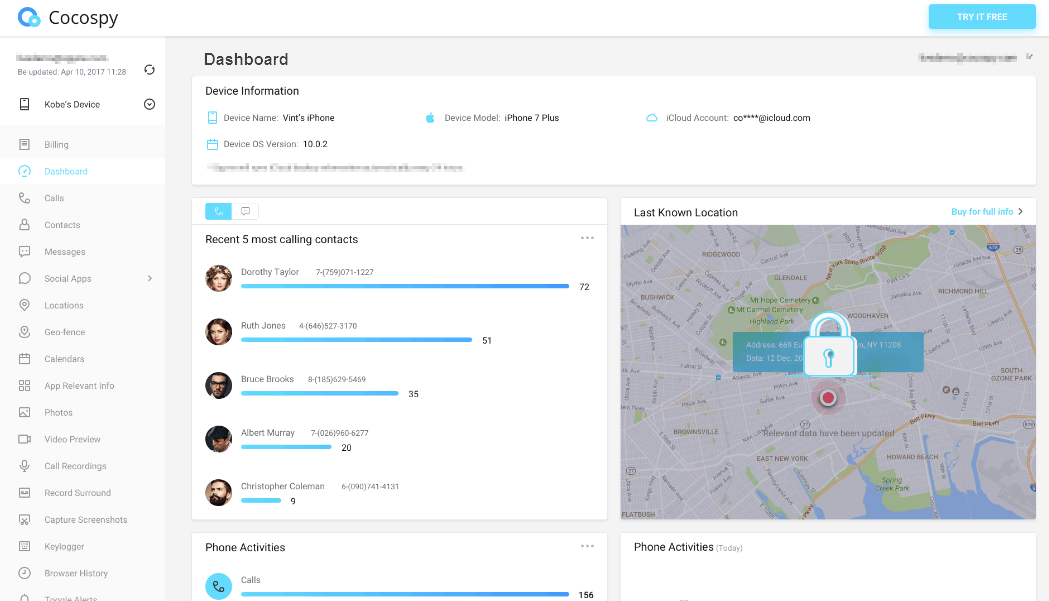 There, you can remotely view the calls, contacts, messages, and everything else stored on the phone. Just click on each of the features to reveal the related details.
Part 2: Spyic Monitoring Solution
Another global spying package that has helped millions of parents across the globe is Spyic. It can remotely track a phone while hidden, thanks to the stealth mode operation.
It also works in both Android and iOS without any rooting or jailbreak. That is why it's considered one of the safest tools to use as you spy on kids. Even Forbes and PC World among other outlets took note of this and decided to write a story about it.
Now, back to spying children. After acquiring Spyic, everything you want to see remotely is enabled by the user-friendly web-based dashboard. It works with all browsers in any device so, you don't have to worry about that.
Just like Cocospy, you can monitor any iOS device with OS version 7.0 and above without installing Spyic. The iCloud verification and disabling the two-step verification in that device are enough to get started.
In Android, however, you need to access the phone once so that you can install the software. It will also operate while hidden once you select the stealth mode operation.
To use it, visit Spyic website, sign up and follow the Cocospy guidelines to set up and start spying.
Conclusion
With the two solutions above, you can monitor your child secretly and get the information you need on a real-time basis. We recommend Cocospy and Spyic because they are reliable, safe, and secure to use.
There is no rooting or jailbreaking needed here before the first time use. As we said, you can use it on any Apple device without downloading or installing anything. In Android, though, one-time access is inevitable.
As we conclude, if you are worried about your child's phone activity, sign up to Cocospy and spy remotely. Everything will then unfold regardless of the distance between you and the kid.