Earlier today, we covered on the new Raspberry Pi 3 and how it has seen a major leap into the 64-bit spectrum making it twice as fast as its predecessor. However, the ODROID-C2, which is another low-cost mini-pc has showed up in the market and it has proven to be even better than its fruity counterpart.
Costing just an additional $5 to your initial budget for the Raspberry Pi 3, you can get double the internal memory and a faster chipset but there is a downside to this. The Odroid-C2 does not support Bluetooth or Wi-Fi which is the Raspberry Pi's main selling point.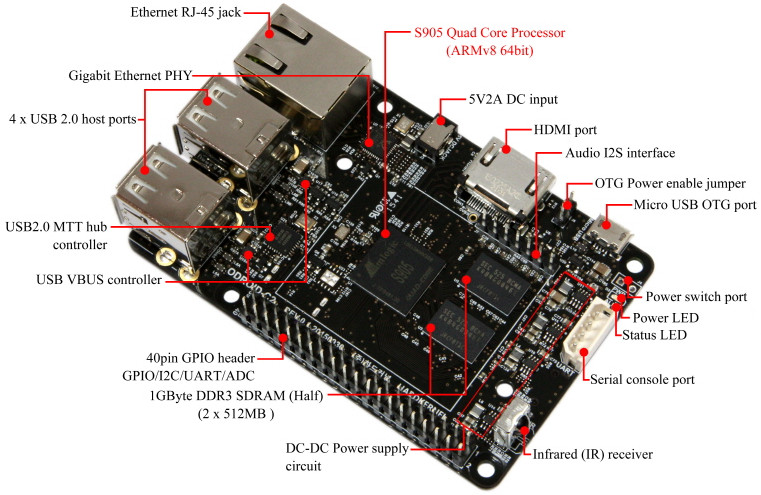 Also remember, the Raspberry Pi Foundation has a community of people working towards developing software, updates and newer features for all its mini-boards but that aspect has been left out by Odroid-C2 even though the device supports Android Lollipop and Ubuntu 16.04 beta.
However, if your are not worried about the absence of Wi-Fi and Bluetooth connectivity the Odroid-C2 is your best bet because it brings to you a Amlogic S905 quad-core processor based on ARM Cortex A-53 cores clocked at 2.0GHz which comes coupled with a Mali-450 GPU to satisfy all graphical demands.
The new mini-board has a 40-pin connector with a 7-pin audio I2S interface, 4 USB-2.0 ports and a HDMI 2.0 port which supports 4k videos running at 60Hz.
With an IR receiver, Gigabit Ethernet, 2GB of RAM and eMMC modules with  8GB, 16GB, 32GB and 64GB internal storage options (expandable via external microSD) we have no doubts as to why the device manufacturers believe this board to be better than its competitor(s).
However, note that the price of this device varies with effect with your choice of eMMC as the higher the storage, the higher the price. Nonetheless, having more than what the 3rd edition of the Raspberry Pi can offer for just a $5 increase might just be worth it.
Let's trash out our views on this board as we comment below.